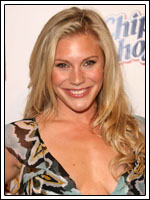 La actriz Katee Sackhoff, más conocida por dar vida a Kara "Starbuck" Thrace en Galactica, tendrá una breve aparición en un episodio de The Big Bang Theory.
Este no será el primer cameo de una estrella de la ciencia ficción en la comedia emitida en la CBS ya que, en la pasada temporada, también pudimos ver un episodio que contó con la aparición de Summer Glau (Firefly, Terminator: the Sarah Connor chronicles).
El episodio en el que aparecerá Katee Sackhoff, a la que también podremos ver en la nueva temporada de 24, será emitido el próximo 23 de noviembre.