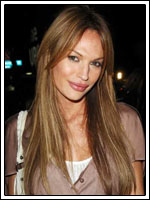 La actriz Jolene Blalock, más conocida por dar vida a la vulcaniana T'Pol en Enterprise, se ha unido al reparto de la segunda temporada de Legend of the Seeker.
Blalock interpretará el papel de una misteriosa Hermana de la Oscuridad con grandes poderes mágicos que intenta por todos los medios destruir a Kahlan (Bridget Regan).
Además de esta incorporación, también aparecerán en la segunda temporada Tabrett Bethell y Charisma Carpenter. Bethell se unirá a la serie como personaje regular interpretando a la Mord-Sith Cara, mientras que Carpenter aparecerá como actriz invitada en la premiere de esta nueva temporada dando vida a Triana.