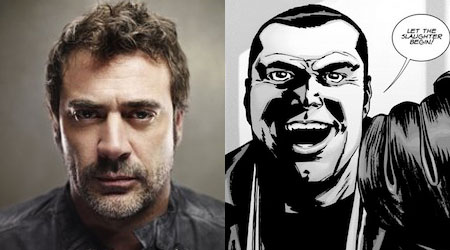 El actor Jeffrey Dean Morgan, conocido por sus papeles en series como Sobrenatural o Anatomía de Grey, es la última incorporación al reparto de The Walking Dead, la serie basada en el cómic de Robert Kirkman.
Morgan, al que actualmente podemos ver en la séptima temporada de The Good Wife, interpretará a Negan, uno de los grandes villanos a los que tiene que hacer frente el grupo de Rick en el cómic. Armado con su inseparable Lucille, un bate de béisbol envuelto en alambre de espino, Negan lidera un grupo conocido como Los salvadores, que extorsionan a diferentes comunidades por su protección.
La decisión de dar el papel de Negan a Jeffrey Dean Morgan no ha debido ser nada fácil, ya que entre los actores que formaban parte del la terna para el este jugoso puesto había nombres como los de  Timothy Olyphant, Matt Dillon o Garret Dillahunt.
Fuente: THR.