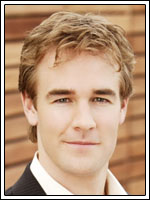 Según publica The Hollywood reporter, James Van Der Beek, que se hizo famoso al interpretar al protagonista de la serie juvenil Dawson crece, ha firmado con la Fox para protagonizar el episodio piloto de Eva Adams. Junto a Van Der Beek, también se ha anunciado la participación de David Denman, el actor que interpreta al novio de Pam en The office.
Eva Adams, creada por Kevin Falls (El ala oeste, Journeyman), está ambientada en una agencia de deportistas y se centra en Adam, un agente engreído y machista que es transformado en una mujer debido al encantamiento de una bruja que desea darle una lección.
James Van Der Beek interpreta a Connor, agente de la firma, viejo amigo de Adam y antiguo miembro de una fraternidad universitaria, mientras que Denman dará vida a Paul, otro agente que está en medio de un nada amistoso divorcio.