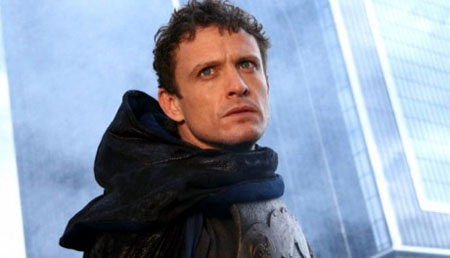 El actor australiano David Lyons, protagonista de la cancelada The Cape, se ha unido al reparto de Revolution, un nuevo piloto de la NBC producido por J.J. Abrams (Alcatraz, Fringe, Alias, Perdidos) y escrito por Eric Kripke, creador de Sobrenatural.
Revolution se ambientará en un futuro postapocalíptico en el que todas las fuentes de energía se han agotado misteriosamente y estará centrada en un grupo de personas que trata de sobrevivir en este mundo hostil mientras busca a sus seres queridos. David Lyons interpretará el papel de Bass, un carismático marine. Junto a la incorporación de Lyons también se ha anunciado la de Maria Howell, a la que hemos podido ver en varios episodios de The Vampire Diaries, que dará vida a Grace, una inteligente mujer que forma parte del grupo de supervivientes.
En un principio, el papel de Bass iba a ser interpretado por Billy Burke (Rizzoli & Isles, 24), pero finalmente Burke ha sido promocionado y dará vida a Miles, el protagonista del piloto, un ingenioso hombre lleno de recursos pero con un peligroso lado oscuro.
Junto a los intérpretes ya mencionados, también está confirmada la participación de Giancarlo Esposito (Breaking Bad, Once Upon A Time), que interpretará el papel del Capitán Neville, un duro militar sureño que oculta algunos secretos sobre su pasado.
Para ponerse detrás de las cámaras del piloto de Revolution los productores han llegado con un acuerdo con Jon Favreau, director de películas como Iron Man o Cowboys & Aliens.
Fuente: Deadline.