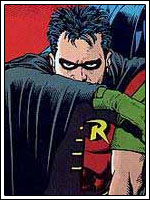 Según Variety, la CW está desarrollando The Graysons, una serie basada en el personaje de Dick Grayson, más conocido por ser Robin, el ayudante de Batman. Sin embargo, en The Graysons no veremos a Robin luchando codo a codo con el caballero oscuro, sino que la serie se centrará en la vida del joven antes de convertirse en el compañero de Batman.
Los responsables de esta nueva serie son McG, productor ejecutivo de Sobrenatural, y Kelly Souders y Brian Peterson, responsables de haber perpetrado Smallville.
The Graysons podría ser el relevo de Smallville si esta última finalizase esta temporada, cosa que se está rumoreando. Sin embargo, el lanzamiento de The Graysons no está vinculado al fin de Smallville, por lo que la renovación de la serie sobre la adolescencia de Superman no supondría dejar de lado este nuevo proyecto.