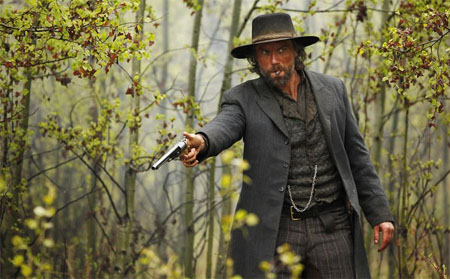 Hell on Wheels, la nueva serie de la cadena AMC ambientada en la construcción del ferrocarril transcontinental de los EEUU durante la década de 1860, se ha convertido en el segundo estreno más visto del canal por cable solo por detrás de la premiere de The Walking Dead.
El estreno de Hell on Wheels consiguió reunir frente al televisor a 4,4 millones de espectadores, un magnífico dato de audiencia aunque lejos de los 5,3 millones con los que debutó The Walking Dead el pasado año. En la franja de espectadores de entre 18 y 49 años, la más codiciada por los anunciantes, el western escrito por Joe y Tony Gayton se hizo con 2,4 millones de televidentes.
Hell on Wheels, cuyo primer episodio se emitió el pasado 6 de noviembre, se centra en la búsqueda por parte de un veterano confederado llamado Cullen Bohannon, al que da vida el actor Anson Mount (Dollhouse, Perdidos), de unos soldados de la Unión que asesinaron a su esposa durante la Guerra Civil. Su búsqueda de venganza termina llevando a Bohannan hasta la contrucción del ferrocarril en Nebraska.
Fuente: Deadline.