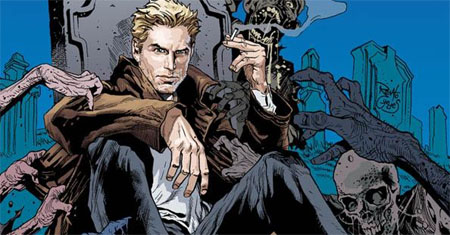 La NBC ha dado luz verde a la producción de Constantine,  un nuevo piloto basado en el personaje del mismo nombre creado por el británico Alan Moore en 1985 que hizo su primera aparición en el cómic La cosa del pantano y que al poco tiempo consiguió su propia serie titulada Hellblazer.
John Constantine es un detective inglés que lucha contras las fuerzas del mal gracias a su conocimientos de ocultismo y hechicería. Este personaje ya tuvo su adaptación a la pantalla grande en 2005 en una película protagonizada por Keanu Reeves y Rachel Weisz. David S. Goyer, guionista de adaptaciones de cómics como El hombre de acero o la triología de Batman dirigida por Christopher Nolan, será el encargado de escribir el guión de este nuevo proyecto junto a Daniel Cerone, productor y guionista de series como El mentalista o Dexter.
Además, la NBC también ha ordenado el piloto de The Mysteries Of Laura, adaptación de la serie española Los misterios de Laura, protagonizada por María Pujalte. Jeff Rake, guionista de The Tomorrow People o Beauty and the Beast, escribirá este nuevo proyecto que será producido por Greg Berlanti, creador de series como Everwood o Eli Stone.
Fuente: Deadline.