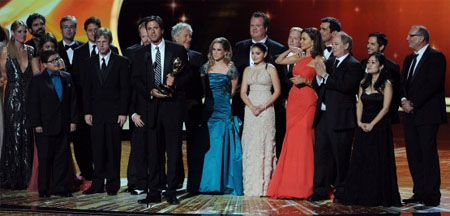 aModern Family ha sido la gran triunfadora de la 63ª edición de los premios Emmy celebrada esta madrugada en el Teatro Nokia de Los Angeles al hacerse con cinco galardones: mejor comedia, mejor guión, mejor director, mejor actor secundario y mejor actriz secundaria. Mad Men, la otra gran favorita de la noche, ha vuelto a ganar el premio al mejor drama pero se ha ido de vacío en el resto de categorías.
En cuanto a actores principales, Jim Parsons se ha hecho por segundo año consecutivo con el galardón al mejor actor de comedia por su papel en The Big Bang Theory superando a su compañero de reparto Johnny Galecki, Matt LeBlanc (Episodes), Steve Carell (The Office), Alec Baldwin (30 Rock) y Louis C.K. (Louie). Melissa McCarthy (Mike & Molly) ha sido galardonada en la categoría de mejor actriz de comedia donde competía con la ganadora del pasado año Edie Falco (Nurse Jackie), Laura Linney (The Big C), Amy Poehler (Parks and Recreation), Martha Plimpton (Raising Hope) y Tina Fey (30 Rock).
En drama, Kyle Chandler (Friday Night Lights) ha aprovechado la ausencia del ganador de las tres últimas ediciones Bryan Cranston (Breaking Bad), para alzarse como mejor actor principal imponiéndose a Jon Hamm (Mad Men), Hugh Laurie (House), Michael C. Hall (Dexter), Steve Buscemi (Boardwalk Empire) y Timothy Olyphant (Justified). Julianna Margulies ha logrado el Emmy a la mejor actriz de drama por su papel en The Good Wife superando a Elisabeth Moss (Mad Men), Mariska Hargitay (Ley y Orden: Unidad de Víctimas Especiales), Mireille Enos (The Killing), Kathy Bates (Harry's Law) y Connie Britton (Friday Night Lights).
Como actores secundarios, Peter Dinklage ha sido premiado por su papel en Juego de Tronos y Ty Burrell se ha hecho con el galardón por su interpretación en Modern Family. Julie Bowen se ha hecho con el Emmy a la mejor actriz secundaria de comedia por su papel en Modern Family y Margo Martindale (Justified) se ha alzado con el de mejor secundaria de drama.
El galardón ha la mejor miniserie o película hecha para la televisión ha sido para la británica Downton Abbey, que también se ha hecho con los premios a la mejor dirección y al mejor guión. Barry Pepper (The Kennedys) y Kate Winslet (Mildred Pierce) han sido elegidos como mejores actores principales. En secundarios, los triunfadores han sido Guy Pearce y Maggie Smith por sus papeles en Mildred Pierce y Downton Abbey respectivamente.