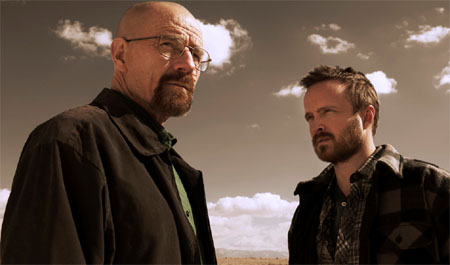 Esta madrugada ha tenido lugar en el Teatro Nokia de Los Angeles la 66ª edición de los Emmy, los premios anuales que honran a los mejores programas y series de televisión. En esta nueva edición, Seth Meyers ha sido el encargado de conducir la ceremonia que vuelto a coronar a Breaking Bad y Modern Family como el mejor drama y la mejor comedia de la temporada respectivamente al igual que el pasado año.
En cuanto a actores principales, Jim Parsons se ha vuelto a hacer con el galardón al mejor actor de comedia por su papel en The Big Bang Theory superando a Don Cheadle (House of Lies), Ricky Gervais (Derek), Matt LeBlanc (Episodes), William H Macy (Shameless) y Louis C.K. (Louie). Julia Louis-Dreyfus (Veep) repite por tercer año consecutivo como mejor actriz de comedia donde competía con Melissa McCarthy (Mike and Molly), Edie Falco (Nurse Jackie), Amy Poehler (Parks and Recreation), Lena Dunham (Girls) y Taylor Schilling (Orange is the New Black).
En drama, Bryan Cranston (Breaking Bad) se ha impuesto como mejor actor a Jeff Daniels (The Newsroom), Jon Hamm (Mad Men), Matthew McConaughey (True Detective), Kevin Spacey (House of Cards) y Woody Harrelson (True Detective). Julianna Margulies se ha alzado con el Emmy a la mejor actriz de drama por su papel en The Good Wife superando a Lizzy Caplan (Masters of Sex), Michelle Dockery (Downton Abbey), Claire Danes (Homeland), Kerry Washington (Scandal) y Robin Wright (House of Cards).
Como actores secundarios, Aaron Paul ha sido premiado por su papel en Breaking Bad y Ty Burrell se ha hecho con el galardón por su interpretación en Modern Family. Allison Janney se ha hecho con el Emmy a la mejor actriz secundaria de comedia por su papel en Mom y Anna Gunn (Breaking Bad) se ha alzado por segundo año consecutivo con el de mejor secundaria de drama.
El galardón ha la mejor miniserie o película hecha para la televisión ha sido para Fargo, que también se ha hecho con el premios a la mejor dirección. Benedict Cumberbatch ha sido coronado como mejor actor de miniserie por su papel en Sherlock; mientras que Jessica Lange (American Horror Story: Coven) han sido elegida como mejor actriz principal en esta categoría. En secundarios, los triunfadores han sido Martin Freeman y Kathy Bates por sus papeles en Sherlock y American Horror Story: Coven respectivamente.