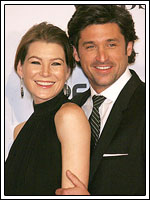 TVguide ha publicado unas entrevistas con los candidatos a las elecciones presidenciales de los Estados Unidos en las que comentan sus programas y series de televisión favoritos.
Así, Hillary Clinton se confiesa seguidora de Anatomía de Grey, American idol y Dancing with the stars, mientras que su programa favorito de todos los tiempos es The Ed Sullivan show.
El otro político demócrata favorito a la Casa Blanca, Barack Obama, opina que las mejores series de todos los tiempos son M*A*S*H y The wire. También suele ver Bob esponja con su hijo.
John Edwars sigue habitualmente Boston legal y, curiosamente, se declara admirador de una serie protagonizada por un contrincante político: Ley y orden.
A Dennis Kucinich le gustan especialmente los programas del late night como The tonight show, The Colbert report, The daily show o Saturday night live.
John McCain, antiguo prisionero de guerra en Vietnam, declara que su serie favorita es Prison break.
A Mitt Romney le gusta evadirse de la realidad viendo Perdidos.
Por último, Fred Thompson, que además de político es actor de la serie Ley y orden, es un seguidor del programa deportivo Sports center.