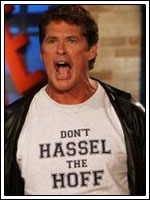 Pues si, el hombre ha vuelto. Según The Hollywood reporter el gran David Hasselhoff está en conversaciones con la NBC para aparecer en la nueva versión de El coche fantástico que está preparando la cadena. Hasselhoff volvería a interpretar a Michael Knight, el personaje que le lanzó a la fama.
Además también se acaba de anunciar a la protagonista femenina del piloto de dos horas que se está preparando. La elegida ha sido Deanna Russo, la coprotagonista del culebrón The Young & the Restless, que emite la CBS.
Deanna interpretará a Sarah, la hija del creador de KITT, que reclutará a Mike (al que da vida Justin Bruening) cuando recibe un mensaje del coche parlante diciendo que su padre ha desaparecido.