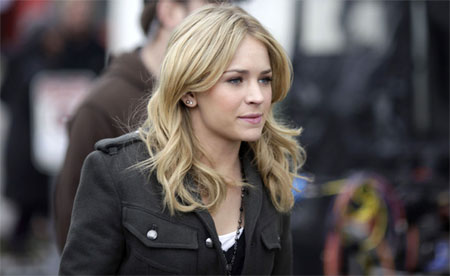 La actriz Britt Robertson, protagonista de la cancelada Secret Circle, es la nueva incorporación al reparto de Under the Dome, adaptación de la novela de Stephen King publicada en España como La cúpula que podremos ver a partir del próximo 24 de junio en la CBS.
Under the Dome está ambientada en Chester's Mills, una pequeña ciudad de Maine que repentinamente es rodeada por un campo de fuerza impenetrable que hace imposible entrar o salir de la localidad. Algunos habitantes de Chester's Mills, encabezados por un militar retirado llamado Dale Barbara, empezarán a investigar el origen de la misteriosa cúpula mientras que "Big Jim" Rennie, uno de los concejales de la ciudad, aprovecha la situación para intentar hacerse con el poder a cualquier precio.
Britt Robertson interpretará el papel de Angie McCain, una joven camarera que sueña con convertirse en enfermera y abandonar Chester's Mills. La incorporación de Robertson se une a las ya anunciadas de Colin Ford, que interpretará a Joe, un inteligente joven que se ve separado de sus padres ya que ellos se encontraban fuera de Chester's Mills cuando se materializó la cúpula; Natalie Martínez, que dará vida a Linda, una mujer casada y con dos hijos que trabaja como ayudante del Sheriff; y Alex Koch, que interpretará el papel de Junior Rennie, el hijo de "Big Jim" Rennie, un joven violento que odia a Dale Barbara.
Brian K. Vaughan, uno de los guionistas de Perdidos, ha sido el encargado de escribir esta nueva serie; mientras que Neal Baer, productor de series como Urgencias o Ley y orden: unidad de víctimas especiales, ejercerá como showrunner. El danés Niels Arden Oplev, director de Millennium 1: Los hombres que no amaban a las mujeres, será el encargado de ponerse detrás de las cámaras del primer episodio de Under the Dome.
Fuente: TVLine.