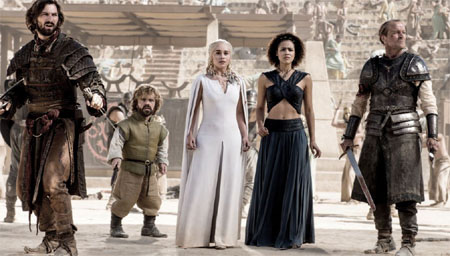 Como suele ser habitual durante estas fechas, TorrentFreak ha hecho pública la lista de las diez series de televisión más descargadas del año que termina.
Juego de Tronos repite como la serie más descargada por cuarto año consecutivo con un total de 14,4 millones de descargas por episodio. The Walking Dead consigue la segunda posición, aunque con menos de la mitad de descargas que la serie basada en los libros de George R.R. Martin, con 6,9 millones de descargas. The Big Bang Theory completa el podio del 2014 con 4,4 millones de descargas.
Después del salto podéis ver la lista de las diez series más descargadas del 2015.
1. Juego de Tronos (14.400.000 descargas)
2. The Walking Dead (6.900.000 descargas)
3. The Big Bang Theory (4.400.000 descargas)
4. Arrow (3.900.000 descargas)
5. The Flash (3.600.000)
6. Mr. Robot (3.500.000 descargas)
7. Vikigs (3.300.000 descargas)
8. Supergirl (3.000.000 descargas)
9. The Blacklist (2.900.000 descargas)
10. Suits (2.600.000 descargas)